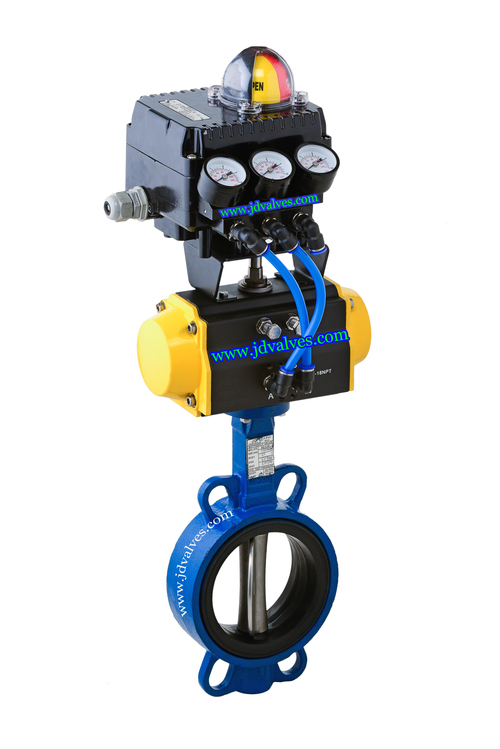 Product Description
Butterfly Valves

We are armed with adequate wherewithal and know-how for manufacturing, supplying and exporting premium quality Butterfly Valves. Designed by us, this valve works for isolating and regulating flow of free flowing substance. It is developed using raw material, which is sourced from trusted vendors to ensure these valves offer optimum performance. We cater not only to the needs and demands of our Indian clients but also the International ones. We securely transit Butterfly Valves to our clients in foolproof packing.

Application Area:

Water Treatment Plant
Waste Effluent Treatment Plant
Gas Plant
Cooling Water Circulation
Heating & Air Conditioning
Breweries
Drilling Rigs
Pneumatic Conveyors
Compressed Air
Paper Industry
Sugar Industry
Chemical Industry
Further Details:

Our Butterfly Valve is designed with broad application, manufacturing and design expertise. Optimum performance Slender-Seal and Concentric designed valve is solid, handling free shutoff along with perpetual gas-proof seal with an essentially shaped or expendable elastomer body lining. It has having two nos. rim positioning gaps for sizes approximately 12 and from extent 14 or more 04 nos. for simple arrangement of valve amid installation. Flange of our butterfly valve positioning gap affirm in accordance with ANSI B 16.5 Class 150; Class 125; BS 10 Table D, F, E; PN 16; PN 6 and PN 10 or other universal standard. Our product is additionally accessible with complete-Lugs sort body with elevated flanged and faces end connection.

This sort of valves surpass other traditional valves, for example, globe valves and gate valves in every aspect, particularly in respect to least number of parts, economical working, handling costs, light weight and no flange gaskets are demanded.

Our Thin Seal configuration Butterfly Valve body seat instrument have a low torque, tight close off with nil spillage, smaller actuator determination, and long life hassle free operation. The center disc and slim seal outline valves are broadly accessible with various blend of body, disc and seat material to fulfill the requirement of most industrial use.

Some Of The Prominent Features:

Slim Seal And Concentric Design
Higher Sealing Capacity
Delicate Seat Design
Bring Down Torque With Any Liquid
Everlastingly Tight Closure
Bi-Way Valve
Ideal Working Under Vacuum Condition
Reasonable For Off-On And In Addition Throttling Service
Materials For All Media
Brief Face To Face Measurement
Wafer Outline Body
Prolonged Service Life
Easy And Smooth Working
Handling Free Version
Simple To Install And Less Weight
Special Features:
Bi-Directional Valve
Optimum Operation Under Vacuum Condition
Lower Torque With Any Fluid
Less Weight, Easy To Install
Greater Sealing Capacity
Permanently Tight Closure
Wafer Design Body
Off Set Disk Outline Butterfly Valve for greater temperature and pressure service
Replaceable and shaped Seat alternative
Pneumatic rotary actuator and gear operated
P.T.F.E. (FEP/PFA) Lined and Flanged End Valve
Damper sort Butterfly Valve for higher Temperature Air Service
Made to order Valve
Material of Construction:

Cast Iron: IS 210 Gr FG 200
Cast Carbon Steel: ASTM A 216 Gr WCB
Cast Stainless Steel: ASTM A 351 Gr CF 8/CF 8M
Forged Carbon Steel: ASTM A 105
Forged Stainless Steel: ASTM A 182 Gr F304 / F316
Seat & Seals: PTFE, Reinforced PTFE
Design Type: Single Piece/ Two Piece/Three Piece
End Connection: Wafer Type To suit to ANSI B 16.5 (150#)
Double Flanged: AS PER ANSI B 16.5 (150#)
Pressure Rating: ASA 125#, 150#
Engineering Option: Gear Operated, Electrical Actuated & Pneumatic Actuated
Size Range: 50 mm to 300 mm

Design & Testing International Standard:

Valve Design: BS 5155 / API 609
Pressure Testing: BS 6755-I / API 598
Face To Face: ANSI B 16.10
Flange Drilling: ANSI B 16.5 / BS 10 Table / DIN / IS 6392
Pressure Rating: PN 10 / PN 16
Size Range: 40NB to 600NB
Operation: Up to 250NB Flow-Control Lever Operated and above Gear Operated. On special request Gear Operation also available from 80NB size.
Enter Buying Requirement Details
Other Products in 'Butterfly Valves' category